Tour Julia Reed's New Orleans Apartment
A Greenville, MS native who's written five books and served as editor and writer for the likes of Newsweek, Vogue, The Wall Street Journal, Elle Decor, and Garden & Gun, Julia Reed has had an envy-inducing career—and a lot of fun along the way. Whether she's musing about politics, fashion, or grits, her sharp sense of humor and confident Southern charm put a dimple on even the dullest words.To no one's surprise, her latest release, Julia Reed's South: Spirited Entertaining and High-Style Fun All Year Long, is full of that wry candor and cultural wisdom we've all come to love—plus mouthwatering recipes and strategic menus that will have your dinner guests staying 'til sunrise.Four years after selling her famed New Orleans Greek Revival house, which she wrote about in her best-selling memoir The House on First Street­­, Reed relocated to a nearby apartment in the city's Garden District is ready to admit that she may be there to stay.
We decided to pay a visit to the consummate entertainer's home, which was originally two separate apartments that the previous tenant had knocked into a single home, with two mirror image sides connected by a single door. The flat has more square footage than the three-story house she previously owned, so there was no need to "Marie Kondo" her belongings before the move. "I'm certainly not one of her acolytes. I actually ended up buying some new pieces of furniture like a crazy person," Julia jokes.
Placing furniture and decor that had previously lived in a series of a rooms (two parlors, a dining room, a library, and a big sunroom) into, what is essentially, two big rooms meant that Julia had to pair unlikely pieces. "I'm mixing stuff up that I never thought I would mix," she says. "I put two inlaid Indian cocktail tables that were in my office in front of a gilded English Regency bamboo settee, for example. I'm kind of just playing house in here." The result is an interior that's sophisticated, inviting, and irreverent—just like someone we know.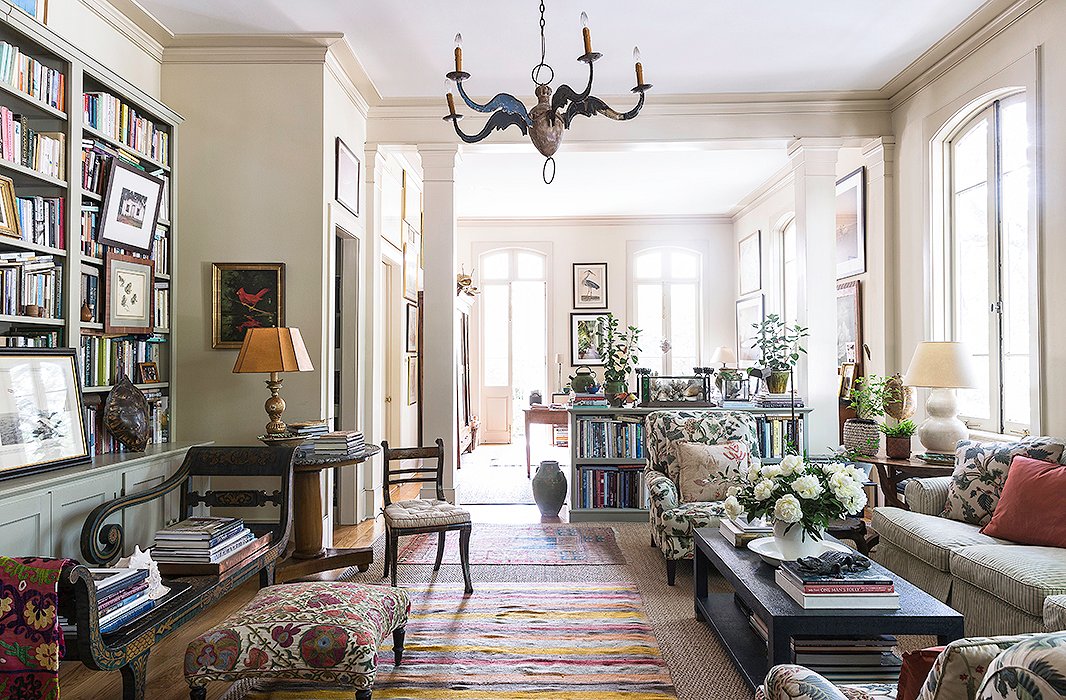 One of the biggest challenges of decorating her new apartment was arranging furniture without a fireplace as a focal point, Julia tells us. "My old house had two big fireplaces in both of the parlors. It was kind of weird having these huge, huge, almost loftlike rooms." Luckily she convinced her dear interior designer friends Courtney Coleman and Bill Brockschmidt, partners in a design firm, to help in exchange for the promise to visit New Orleans's best restaurants.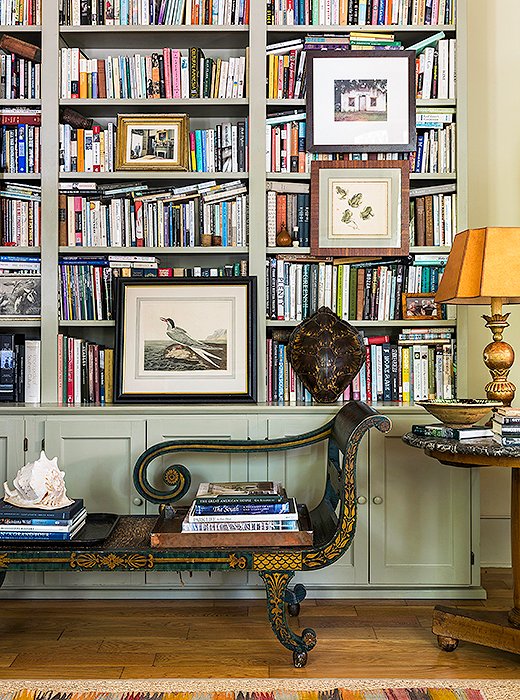 "No house or apartment is complete without a ton of books," Julia says. Her living room library is brimming with cookbooks and decor books. "A great many of my friends are writers, so I have all their books. There's no way I could ever name a favorite book, but it makes me feel very happy to have them around."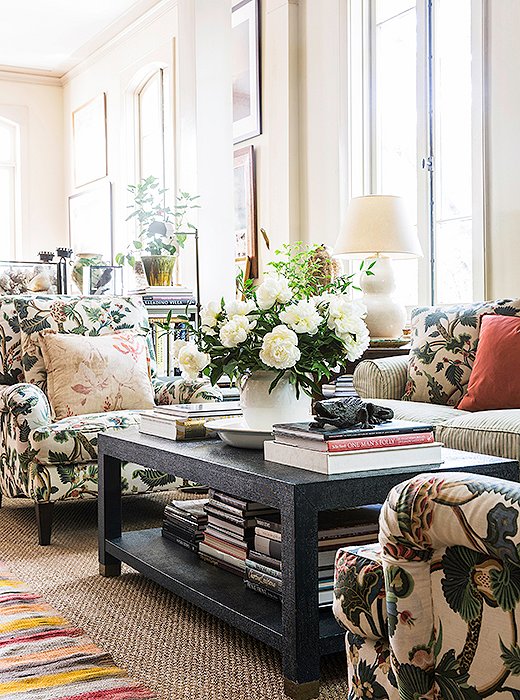 Julia upholstered a pair of large armchairs in her more casual living room with her favorite crewelwork fabric. "I'm mad for the Bennison linen that covers that pair of chairs," she says. "I carried a swatch of that linen around for 20 years until I had a house that was right for it and a place to use it."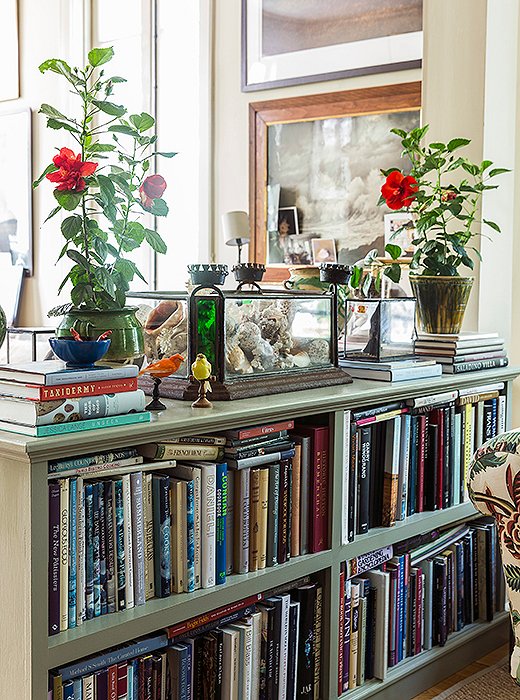 The author describes her less formal living space, which incorporates her office, as "sort of vagabond/World of Interiors. It is layered to the teeth. I've got all the crazy things I've collected on my travels from African baskets and birds' nests to suzanis I bought in Kabul and lots of pieces of French faience pottery. There are seashells and tortoiseshells, avian taxidermy, and lots of maps, books, and photographs taken by friends—mostly of the natural world."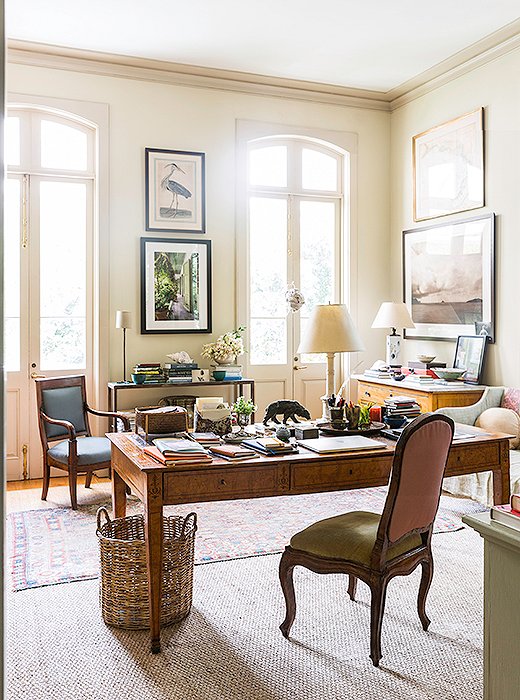 Columns and a pair of sea-grass mats divide Julia's office area from her sitting area. She's layered the natural-fiber rugs with antique Oriental rugs and an unusual striped dhurrie, which she bought from her friend Suzanne Rheinstein's Los Angeles store, Hollyhock.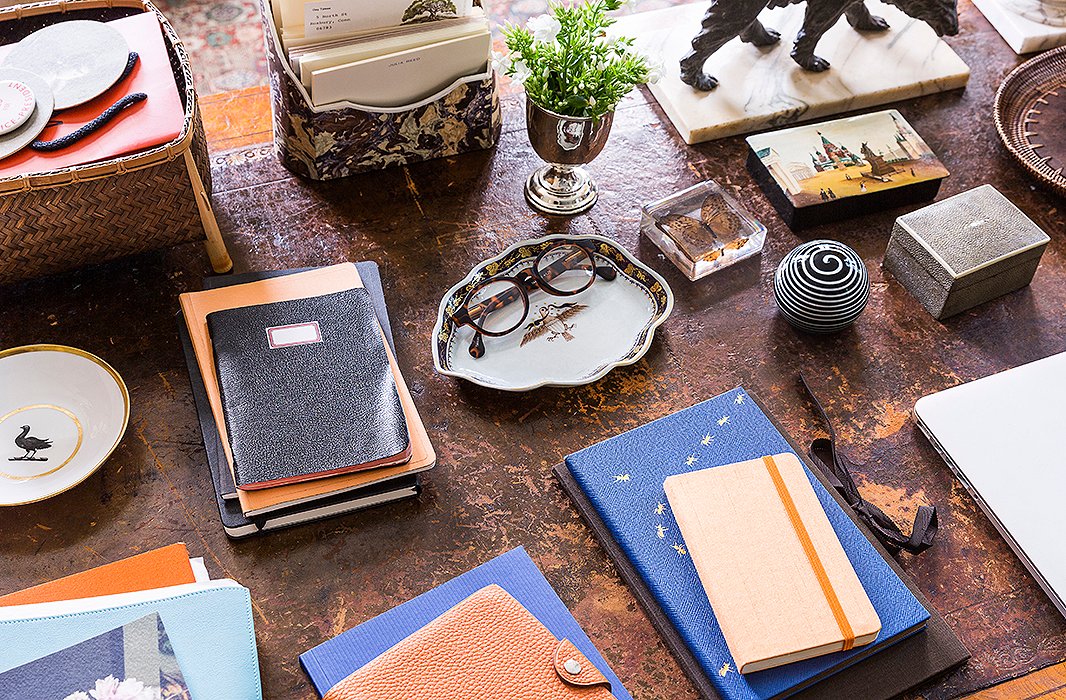 Author of five books and a contributor to numerous publications, including TheWall Street Journal, Southern Living, Elle Decor, and Garden & Gun, Julia keeps leather journals and notebooks handy for those moments when the perfect phrase or idea strikes.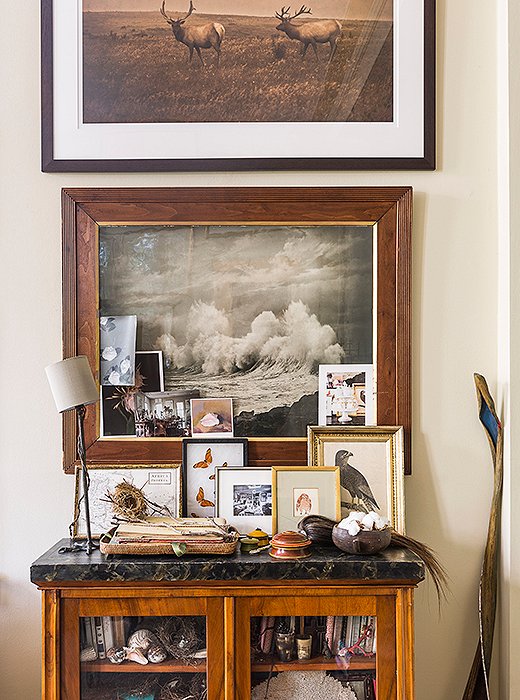 "It makes me incredibly happy to live with objects from nature," Julia says. "I like my interior to reflect the exteriors. I have lots of plants in my house. Most of the prints in here are birds. There's a set of eight prints of butterflies and insects. I just adore them—coral and shells, and prints of birds, and prints of corals, and prints of shells, and paintings of birds…"
"Right now I think the best description for my style would be 'magpie.' All the things I've collected over almost 30 years have been dropped in here with me—into my giant nest!"

— Julia Reed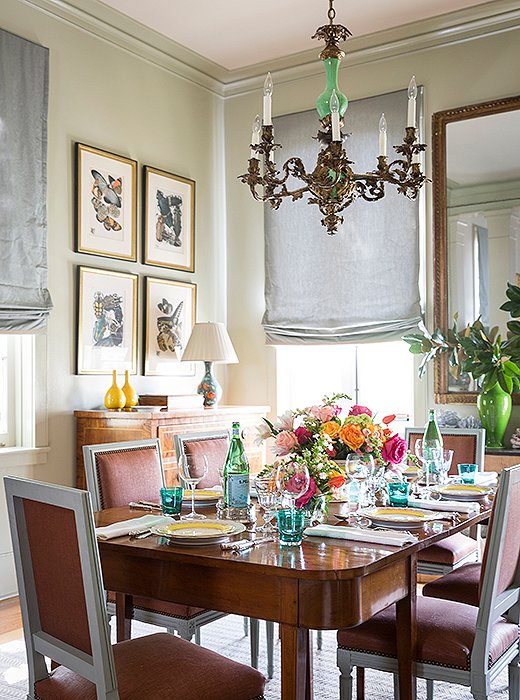 Despite having plenty of seating to host a crowd, one of Julia's favorite types of parties is not a seated dinner but what her mother calls "a cocktail supper." "There's lots of food being passed on trays and lots of food spread out on the table and plenty enough to eat to constitute supper," she explains. "You can mingle and eat and drink with abandon and not have to worry about pesky things like knives and forks and a place to put your glass down." One of Julia's signature cocktail suppers is featured in her latest book, Julia Reed's South.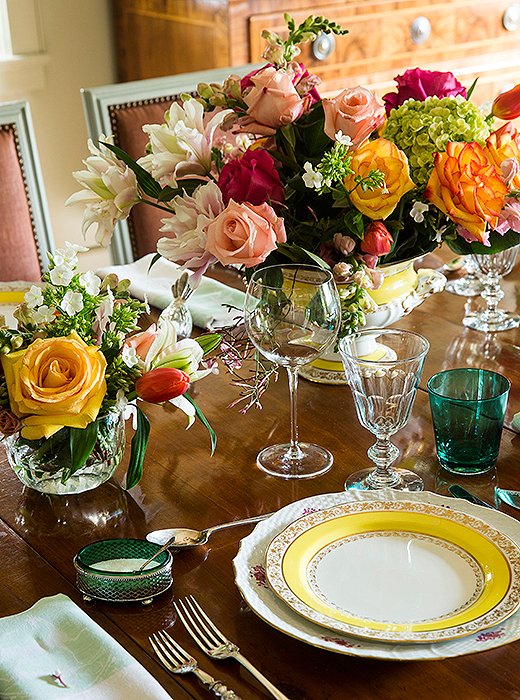 Vibrant and polished, Julia's impeccably set dinner table beautifully represents her affinity for the high-low mix. "I'll use heavy 19th-century French wine goblets from Lucullus with thin water glasses, sometimes in color, from, say, CB2."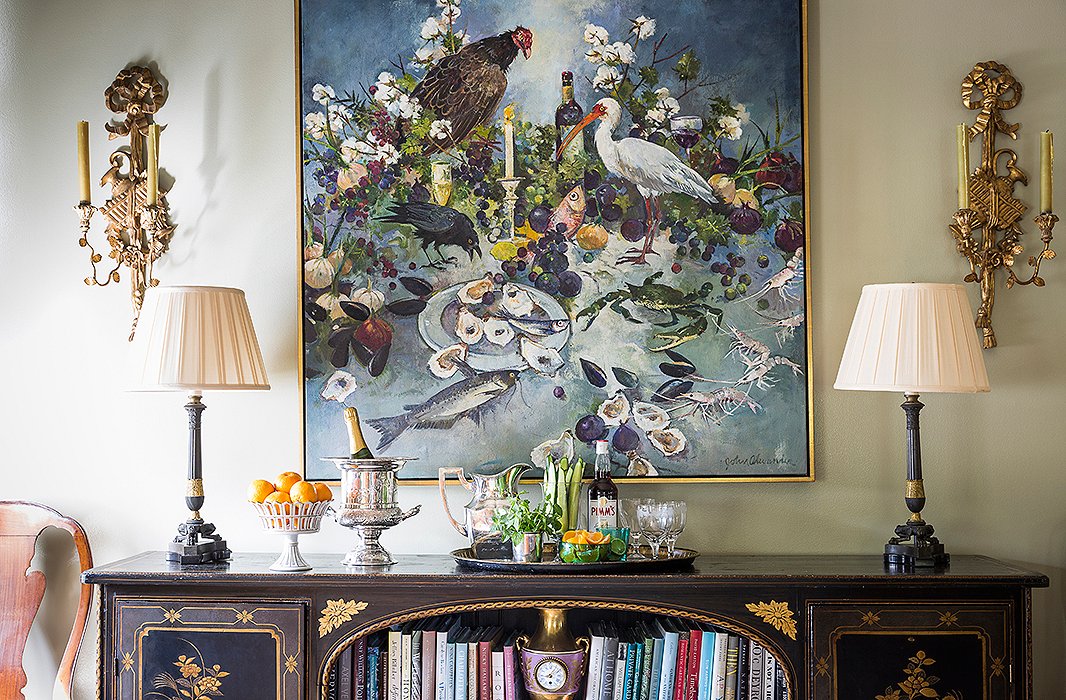 Any occasion is one for polished silver and antique goblets as far as Julia is concerned. "I've never understood the concept of saving your good stuff, for, I don't know, what? The return of the Duchess of Windsor? It doesn't matter if I'm just having some close friends or neighbors around for a casual Sunday supper: I'm going to pull out the good stuff."
Julia serves a Pimm's Royale, a variation on a signature cocktail served at New Orleans's fabled Napoleon House, which she discovered at the Paris Ritz. Made with champagne instead of the usual 7Up or ginger ale, it's crisp, refreshing, and just bubbly enough. The recipe is featured in Julia Reed's South.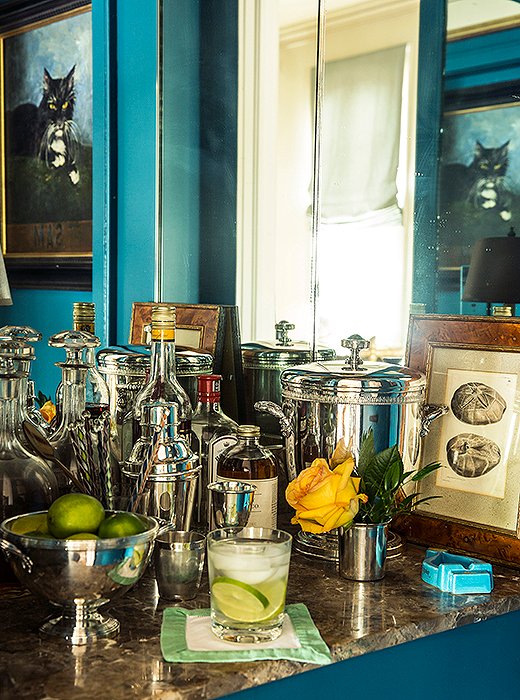 When asked what one will always find in a Southern home, Julia says, "We polish a hell of a lot of silver in the South, so you're going to see silver candlesticks, and wine coolers, and ice buckets. My mother's dining room is like a symphony of silver."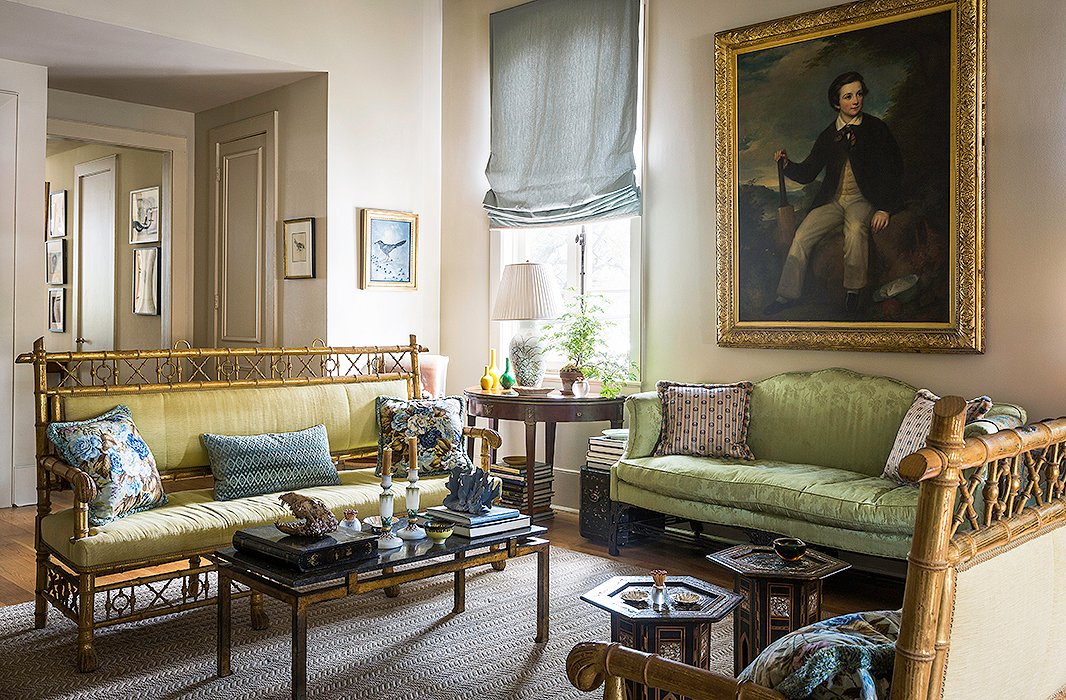 In her more formal living room, Julia mixes a Chinese Chippendale sofa (which belonged to both her grandmother and her great-grandmother) with a pair of gilded Regency settees and Indian cocktail tables. "I've become an accidental eclectic," she jokes. The author reupholstered the sofa in a green silk damask that is almost identical to its original silk.
Julia found the gilded bamboo benches at Ann Koerner Antiques in New Orleans. "I saw them and I knew I had to have them," Julia says. "They sat in storage until I had a place to put them. I love any kind of paw feet, and I love bamboo, so they were perfect. And for pieces that look so nutty and over the top, they are really deep and comfortable."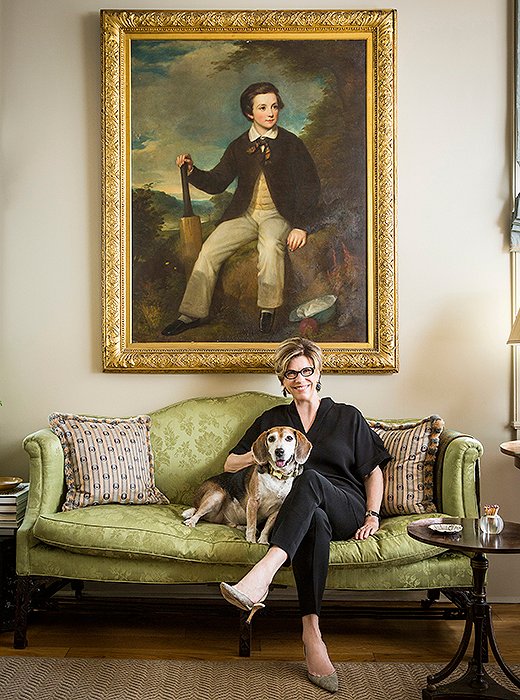 The regal English oil painting of a cricket player above Julia's sofa hung, in the Nashville home of her great-grandmother for a long time. Julia said "I don't think anybody ever paid attention to it, and I was always lucky enough to have the highest ceilings, so it got passed to me. I can't imagine what possessed her to buy that—it's certainly not an ancestor—but I'm happy to have it."
"I don't think anybody in my family even knew that was a cricket bat in the child's hand until I made the mistake of going out with a cricket player, and so the mystery was solved."

— Julia Reed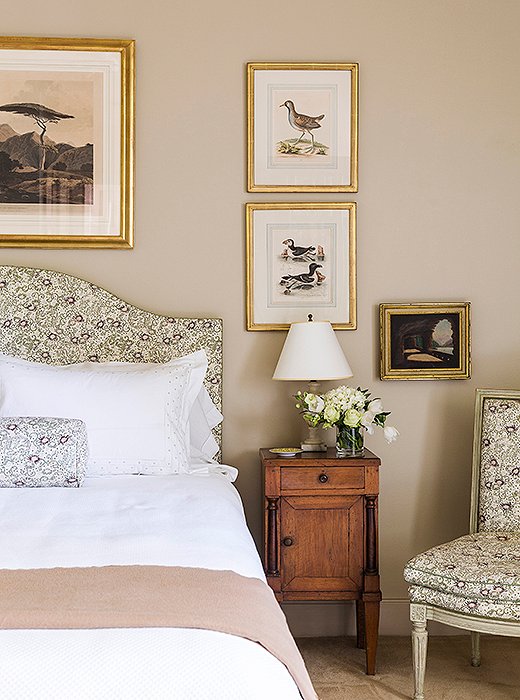 Julia's bedroom is beautifully appointed with a headboard, Louis XVI side chair, and bolster all upholstered in an elegant floral fabric.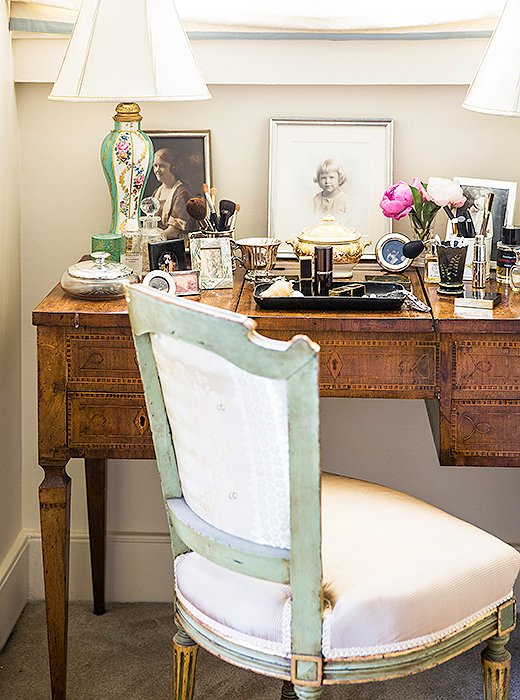 An antique vanity is dressed with family portraits and a pair of hand-painted table lamps.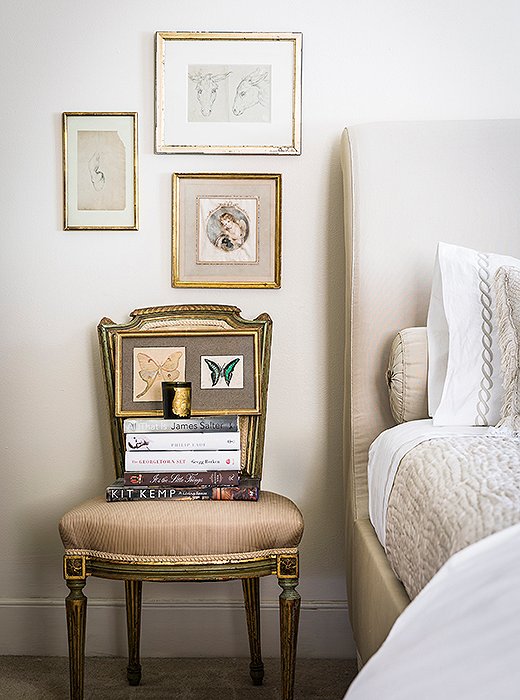 A side chair stacked with books serves as a makeshift nightstand in the author's second bedroom.
"Because I still feel like I am just sort of playing house, I can mix and match and people won't think this is me doing 'serious' decorating. But in the end, I like it."

— Julia Reed